Test Prep. Admissions Coaching. Career Advancement. Mentoring. Networking. Free.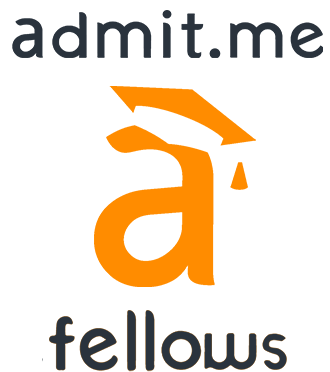 Admit.me Fellows is a free fellowship program for underrepresented minorities (URMs), women, and current/former military personnel interested in MBA or business-related MS/PhD programs.
The fellowship provides admissions and career resources, valued at over $2,000, to optimize your outcomes from application through matriculation.
There is so much noise for applicants throughout the process, with people offering varied (often conflicting) advice. As admissions and test preparation experts, we're here to filter out the noise and provide you with definitive guidance throughout your journey. We've helped roughly 92% of our applicants successfully navigate the admissions process since 2007.
It's simple, really. We need more underrepresented minorities, women and current or former military leaders in business, but the application process is extremely challenging, overwhelming, and expensive. We help close the access gap by providing FREE test prep, admissions coaching, career guidance and mentoring through our partners Magoosh, Admit Advantage and Vault. Best in-class support to help you through the admissions process.
30% of Magoosh students score a 700 or above
get accepted to a top choice school
hours of admissions coaching
happy Admit.me
Fellow (this is YOU)
admit.me fellows school partners




what do admit.me fellows get?
what are the eligibility requirements?
Demographic: Underrepresented minority (African American, American Indian, Alaskan Native, and/or LatinX), woman, or current or former military personnel
Application Interests:

Applying to an MBA or specialized MS/PhD in a business-related field for 2020-2021 (matriculation in 2021)

Academics:

3.25 GPA or tell us why we shouldn't care (in the optional essay)

Test:

You need to take at least one full GRE or GMAT practice exam
Free test preparation services for GRE or GMAT sponsored by Magoosh ($438 value) - voted #1 test prep program
3 hours of free admissions coaching support from an admissions expert, from a top 10 graduate school & access to exclusive admissions Slack channel ($900 value)
Complete access to Vault career services ($150 value)
Direct access to Admit.me partner schools (Emory, UCLA, UNC, Berkeley, Duke and growing…)
Learning team of 5 people with an admissions mentor (current student or alumnus) to help candidates navigate the admissions process and expand their network
...and much more including exclusive content, discounts, scholarships, etc.
Application fee waivers from selected schools ($250 value, per school)
We have two application rounds:
Cohort 1: Deadline 5/31/20 I Completed
Cohort 2: Deadline 7/31/20 I Decisions by 8/15/20
what's the application process?
Here's what you will need to apply:
Admit.me profile, here. Fill out everything you can to help us get to know you.

You can do this now.

Resume




Video 1:

Introduce yourself (1 min or less)

Video 2:

What impact are you going to make in your community and career post graduate school? (2 min or less)

Full practice/official GMAT or GRE exam score.

It's not about the actual score, it's about demonstrating your willingness to commit to the process by taking a full practice/official test.




Optional essay:

Tell us what else we should know (150 words or fewer)
It was a highly competitive process for Cohort 1; we expect a highly competitive and high-quality applicant pool for Cohort 2. We suggest you apply as soon as you are ready to leverage all of the admissions tools.
No recs, no transcripts, no essay required. We just want to learn about you!
"I never thought I could afford admissions help...thank G-d I found Admit.me! Without Admit.me, I would have drowned in the process. Admit.me helped me get into a way better school than I would have on my own. They were a real lifesaver!"
Went to UPenn (Wharton) after admit.me
admit.me fellows content partners address key questions about the program
FREQUENTLY ASKED QUESTIONS
interested in recruiting fellows?
Interested in top-notch MBA candidates (URM/women/military) who are looking to make an impact in the business world and beyond? Our first cohort of accepted Fellows has an average GPA of 3.5, work experience of 5 years, and 45% are first-generation. We expect to have an equally strong cohort 2 group of high-quality Fellows in August. They hail from employers like Google, Morgan Stanley, Amazon, J.P. Morgan, and Amazon. Admit.me Fellows could be a great fit for your top notch MBA program or company looking to hire diverse MBA talent. If you're interested in learning more, please reach out to fellows@admit.me. See below for our Cohort 1 demographics.